New art installation to light up York this Winter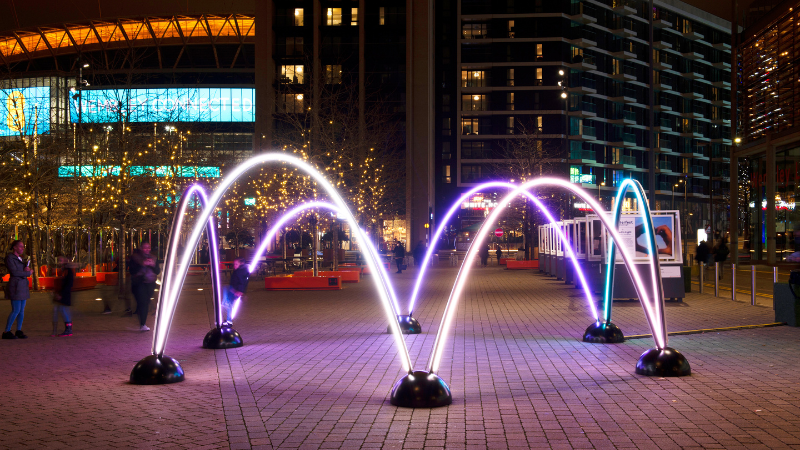 New art installation to light up York this winter.
If you venture into York this winter, you'll find an eye-catching art installation lighting up St Sampsons Square.
The York BID are bringing 'Reunion' to St Sampson Square to bring some animation to the city and encourage the local community to come together in the period after Christmas.
Reunion is a light art installation by Kumquat Lab.
The artwork represents connectedness and the act of gathering together. Reunion takes the form of light arches which curve towards each other, signifying contact and connection. The rotating colour patterns are inspired by the movements of bodies revolving in a circle.
The artwork not only symbolises connection: it also aims to encourage connection. People are encouraged to interact with the artwork, which was originally designed to celebrate the opportunity to come together again following the pandemic.
With its inviting, ever-evolving colour patterns and glowing arches, Reunion creates a calming light space in which viewers can gather, meet, play and interact.
Reunion will be in place from 16th January until 6th February so visitors coming to enjoy the popular Residents Festival weekend (28/29th Jan) and Ice Trail event (4/5th Feb) will be able to see it.
The York BID's Executive Director Andrew Lowson said: "People sometimes need a lift when all the excitement of Christmas is over, and the nights are still dark. We hope people will welcome the opportunity to come into the city to see this exciting artwork, stay a while, and visit some local businesses while they're here."
The York BID provides support to businesses in the city and is also sponsoring six ice sculptures in the Ice Trail.