Cleanliness of the city centre and business support are two of the key challenges that York BID was set up to tackle. The BID took a huge step forward by appointing Forge Recycling as the trade waste supplier for the city in June 2019.
The appointment of Forge Recycling as our trade waste partner addressed a number of issues which previously created problems for businesses. They operate 7 days a week and offer increased options for recycling, including recycling of coffee cups and vegware. They also save many businesses money.
There should be no reason for waste bags to be left out on pavements from Friday evening until Monday morning with regular weekend collections.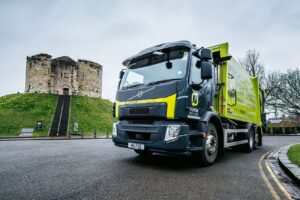 As part of the York BID agreement, participating businesses will benefit from economies of scale, with no annual increase in the waste contract price, but possible reductions as more sign up to the service. Businesses will also benefit from one free cardboard bale collection each week.
There are now 78 city centre businesses signed up for the scheme, with an average annual saving of around 20% for those who have joined.
For more details, please call 0345 505 0905 or email yorkbid@forgerecycling.co.uk