Celebrate the winter season with the memorable York Nutcracker Trail. York BID has partnered with local charities, schools and artist Sian Ellis to bring you 10 bespoke nutcracker statues, dotted around the city.
The map on this page shows you where you can find the cheeky nutcrackers across the city. Pick up your Nutcracker Trail leaflet from the Visit York Information Centre and find the names of all 10 nutcrackers for your chance to win a £250 York Gift Card. Once you're finished, submit your entry at the Visit York Information Centre or pop it into Santa's post box at Museum Gardens. What's more, if you tell us the link between all of the nutcracker names, you could win your own miniature nutcracker! (Ts & Cs on physical Nutcracker Trail leaflet).
We've also included some information about artist Sian Ellis, the charities and schools that have designed the figures; scroll this page for sneak peeks of a selection of the designs.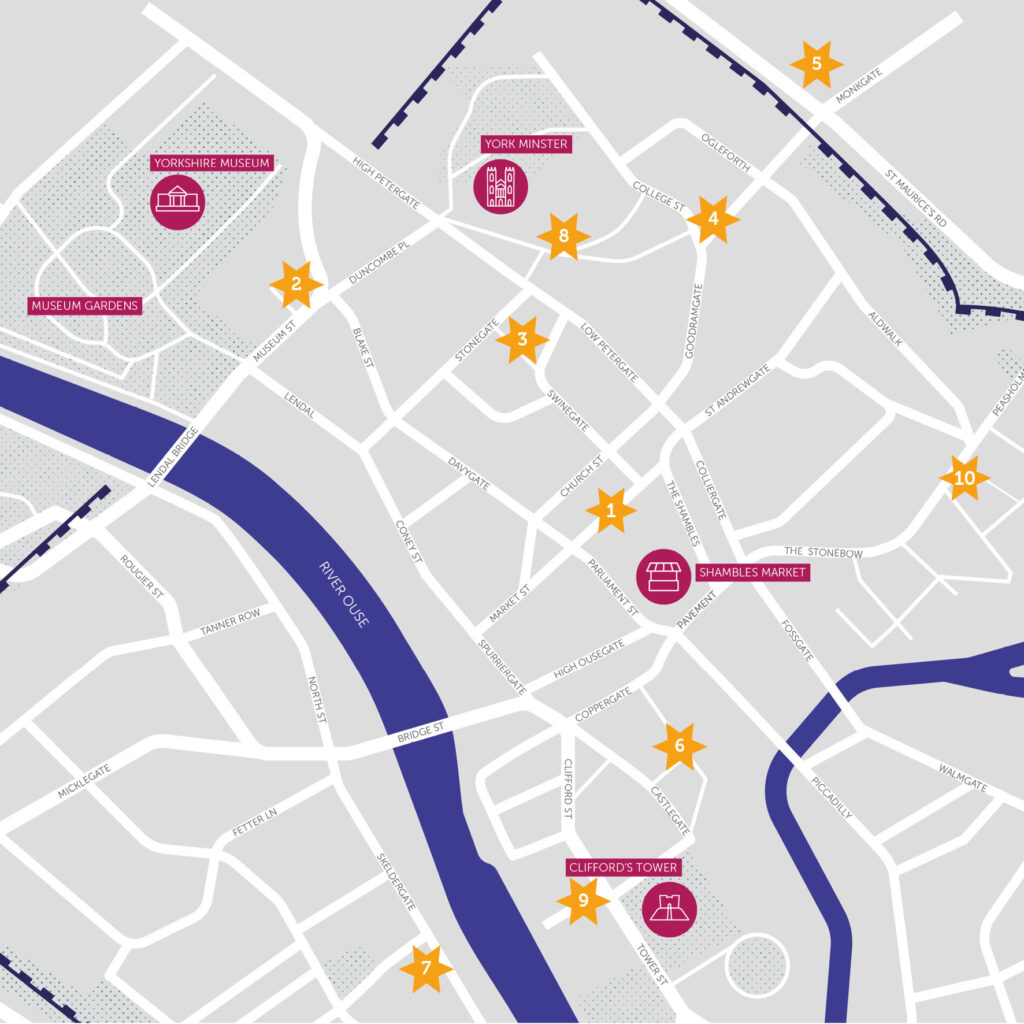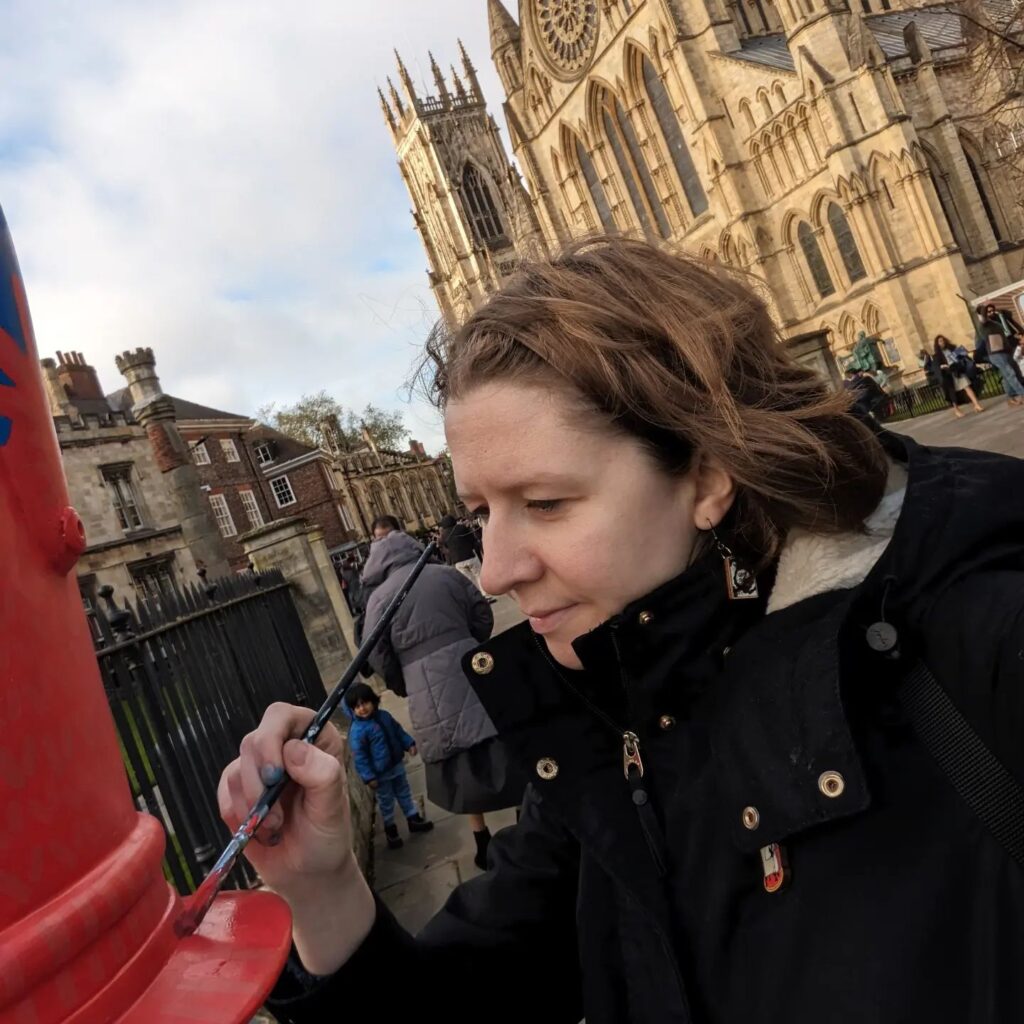 Sian Ellis is a Yorkshire-based illustrator and mural artist, and just so happens to be our nutcracker superstar who has brought the statues to life!
Sian has designed and painted the nutcrackers herself, and has taken inspiration from the schools and charities for five of the statues.
Visit the This is Sian Ellis website or her Instagram account for more information, behind the scenes content and beautiful designs.
York Mind is an independent mental health charity which helps local people with emotional wellbeing, independent living and recovery from mental ill health. They aim to empower individuals experiencing mental ill health to start the pathway of recovery through all aspects of their lives, including social, personal, and professional. One such service that supports this is the RISE programme, which helps out-of-work adults who face barriers to engaging with employment and training.
York Mind also campaign to raise awareness of mental ill health and to reduce stigmas surrounding mental health conditions, and offer counselling and training courses, such as mental health first aid.
The York Mind nutcracker wears a blue and pink uniform to represent the charity's brand colours. It celebrates Christmas in the city through a scene of the iconic York Minster with snow falling in the background. You can donate via the York Mind website.


Changing Lives lead the drug and alcohol service for the City of York. They offer a wide range of programmes from helping with employment or housing, to recovery and wellbeing services.
The Changing Lives nutcracker is inspired by submissions created by those enrolled in the Oak Trees programme, a community rehabilitation programme for people at any stage of their recovery journey who wish to change their relationship with drugs or alcohol. Traditionally, nutcrackers were given to bring good luck to families and keep evil spirits and danger away from the family home. Inspired by this German folklore, the Changing Lives designs were based on what brings individuals in recovery strength and power at Christmas, which can be a challenging time of year for those struggling with addiction.
A consistent theme in the submissions from Changing Lives was nature supporting individuals' wellbeing as a source of calmness and serenity. This is reflected in the nutcracker's design featuring robins on a sky-blue background, with snow falling to make a peaceful winter landscape. You can donate via the Changing Lives website.
My Sight is an independent charity supporting local people with sight loss to make confident life choices. They support around 1350 visually impaired people living in the York area through counselling, employment advice services and much more.
My Sight also offer a home visiting service where volunteers offer one-to-one support and friendship to people living with sight loss. Sight loss awareness training is available to local businesses to aid understanding of the needs and concerns of people with a visual impairment.
The My Sight nutcracker is bright blue with white tactile snowflakes to represent My Sight's brand colours. Tactile art allows blind and partially sighted individuals to interact with 3D elements such as shape, space and depth. You can donate via the My Sight York website.


The Wigginton Primary School nutcracker is inspired by the submissions from the children of the York-based school, celebrating the Christmas period. Inspired by festive colours, this nutcracker has a bright red and green uniform, with gold features. It also has candy cane-esque red and white striped sleeves and a crocodile-style hat with large white teeth.
Traditional nutcrackers can be traced back to 16th Century Germany, although they were not associated with Christmas until Tchaikovsky's 'The Nutcracker' popularised the connection in the late 19th Century. In the ballet, based on E.T.A. Hoffman's book 'The Nutcracker and the Mouse King', a girl befriends a nutcracker who comes to life on Christmas Eve to defeat the evil mouse king.
The St Wilfrid's R C Primary School nutcracker is inspired by submissions from the children of the York-based school. All of their designs featured vibrant colours, which has been reflected in the nutcracker's bright blue, red and orange uniform. A lot of the children's designs included elements of playfulness, such as the nutcracker sticking out its tongue.
This nutcracker also has fairy lights draped around its uniform. Traditionally, families adorned the branches of Christmas trees with candles. This tradition can be dated back to 17th Century Germany, and developed with the advent of electricity. In the 1880s, Edward Johnson created the first electrically illuminated Christmas tree. Electric lights became more accessible and popular throughout the 20th Century and are now synonymous with the festive period, with York being a festive city that everyone looks forward to visiting.