Cementing York's reputation as one of the most haunted cities in Europe, York BID brings you Ghosts in The Gardens – eerie sculptures in beautiful settings.
York BID has again partnered with local design agency Unconventional Design to create translucent 3D sculptures skillfully formed from narrow gauge wire mesh. This year's display is bigger and better than ever, with 39 ghosts to discover in some of the city's beautiful gardens.
Venues and Opening Times
Museum Gardens - Museum Street. Open daily 9-6.
Artists' Garden - Access via Museum Gardens or through Exhibition Square via alley to the side of the art gallery. Open daily 10:30-4:30.
Edible Wood - Access via Museum Gardens or through Exhibition Square via alley to the side of York Art Gallery. Open daily 10:30-6.
Middletons Hotel - Cromwell Road. Open daily.
Merchant Adventurers' Hall - Fossgate. Open Sun-Fri 10-4:30, Sat 10-13:30.
Treasurer's House - Minster Yard. Open Sat-Wed 11-4.
St Anthony's Garden - Peasholme Green. Open daily from 9.
Library Lawn - Museum Street. Open daily.
Barley Hall - Coffee Yard. Always visible.
Clifford's Tower - Clifford Street. Always visible.
DIG - St Saviourgate. Always visible.
Castle Museum Mill - Tower Street. Always visible.
The Judge's Lodging - Museum Street. Always visible.
Shambles - Always visible.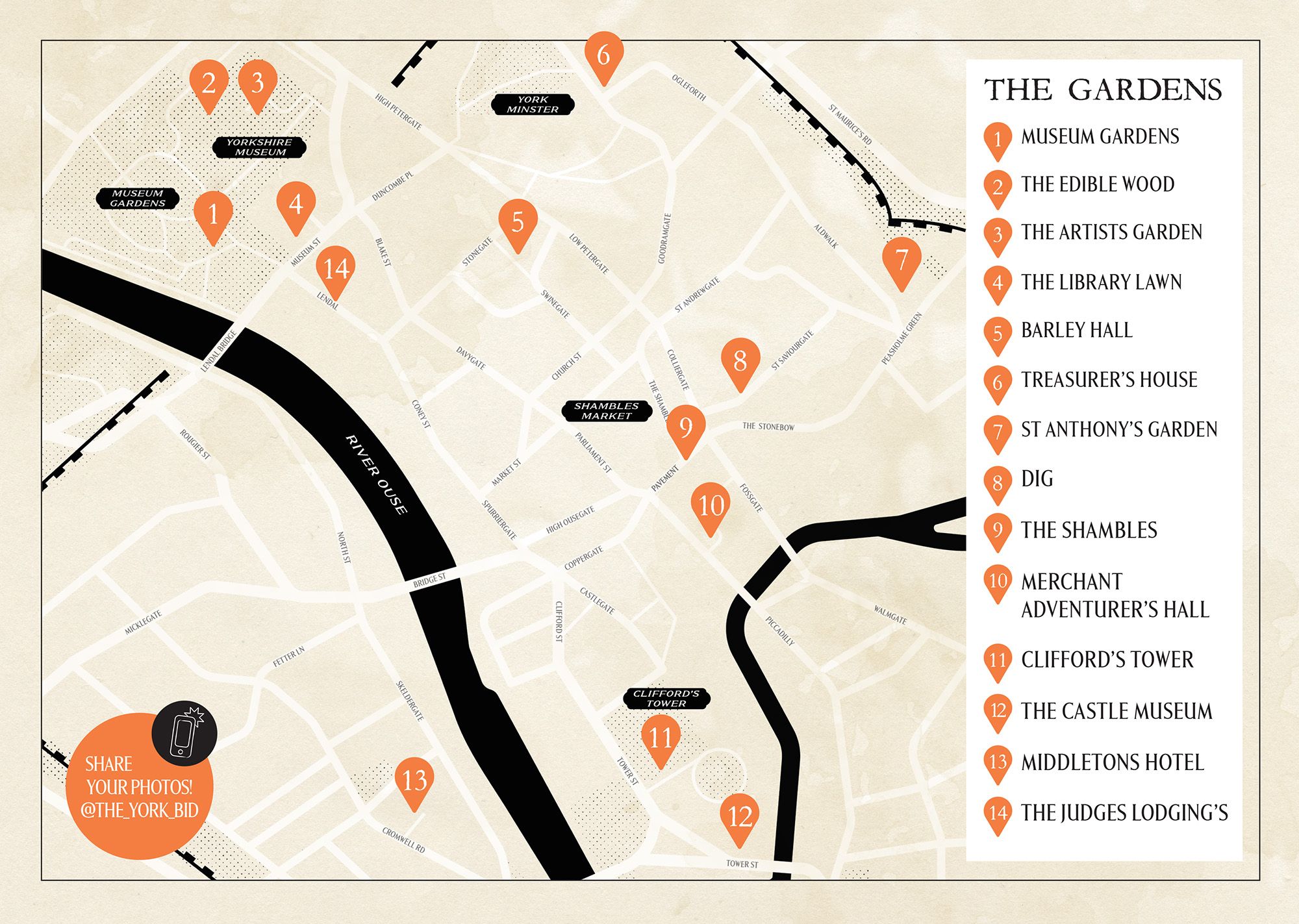 Ghosts and Background
Viking Man and Woman – York is well known for its Viking heritage. This Viking man is ready for battle, dressed in traditional Viking garb.
Archbishop - York has had many Archbishops; this ghost pays homage to the city's strong religious past.
Bride - This bride, at one of York's finest wedding venues, seems to be having second thoughts...
Two Monks - The monks can be discovered around St Mary's Abbey, where they would have been found before the abolishment of the monasteries.
Cat (x2) - An homage to York's world-famous Cat Trail, this cat is lazing in the sun.
Squirrel - Squirrels are synonymous with the Museum Gardens; this is the hardest to find ghost.
Highwayman and Horse - Arguably the most infamous highwayman in history, Turpin was imprisoned and killed in York.
Peacock - Many of York's residents will remember peacocks roaming Museum Gardens right up until 2001.
Groom - This jilted groom is chasing after his bride on the day of their wedding.
Victorian woman - Although it's not celebrated as much as the Vikings and Romans, York has a rich Victorian history.
Falcon - Residents of York can often hear the calls of the York Minster falcon. They can also often see many birds of prey in Museum Gardens.
Stewart man - Arguably the most notorious Stewart was born in York in 1570. This ghost is still in one piece so can't be Guy Fawkes, but he looks suspiciously like him...
Gardener - This turn of the century horticulturalist is tending to some of York's finest gardens.
Knight - This knight is kneeling to swear allegiance… but to who?
Artist - Right outside York Art Gallery you'll find an artist and his easel.
Nurse - This nurse can be found in the grounds of Middletons Hotel; formerly Middletons Hospital founded by Lady Anne Middleton.
Merchant - This merchant can be found selling her wares at Merchant Adventurers' Hall.
Fisherman - Enjoying one of York's finest views, this fisherman is seeing what he can get for his tea in the River Foss.
Edwardian Man - This Edwardian man, who can be found strolling in the grounds of Treasurer's House, looks like Frank Green; the man who gave the house to the National Trust.
Roman Centurion - The Romans came to York in 71 AD. This centurion is ready for battle.
Teacher - Found in the grounds of the old Blue Coat School for boys founded in 1705, you can find one of the school's teachers.
Tudor Boy - Found in the grounds of the old Blue Coat School for boys founded in 1705, you can find one of the 40 poor boys it was founded to teach.
Shakespearean Ghost - On the balcony of Barley Hall there's a familiar looking Shakespearean ghost calling for her Romeo...
Ghost Week Phantom - Created to look like a traditional phantom, this spirit can be found near the York Ghost Merchants' newest shop.
Butcher - This Medieval worker can be seen throwing slop out of the window on to the Shambles below.
Archer - Protecting the city from invasion, you can see this archer firing his arrows from the ramparts of Clifford's Tower.
Judge - In residence at Judge's Lodging, this judge is taking in the view from the balcony.
Bear - In the early 1800s, Museum Gardens was home to a menagerie of exotic animals including a monkey, bear and a golden eagle. On more than one occasion the bear escaped!
Miller - Now in York, Raindale Mill used to be in the North York Moors. This miller is hoisting up a heavy load to the supplies entrance.
Fox - Often seen on the streets of York, this urban mammal is on the hunt for food.
Goose - Every year York's riversides become home to gaggles of geese.
Heron - This heron is keeping an eye out for fish, whilst also deterring other herons from taking his dinner.
Musician - York has long been known for buskers, with King's Square attracting street performers from all over the world. This violinist is making some money in the Edible Wood.
Astronomer - The Museum Gardens is home to the oldest observatory in Yorkshire, built in 1832. This astronomer is bending to get a better view.
Chimney sweep - This 18th Century chimney sweep is preparing to clean out the chimneys at Merchant Adventurers' Hall.