Taxi Marshal programme to assist late night safety in York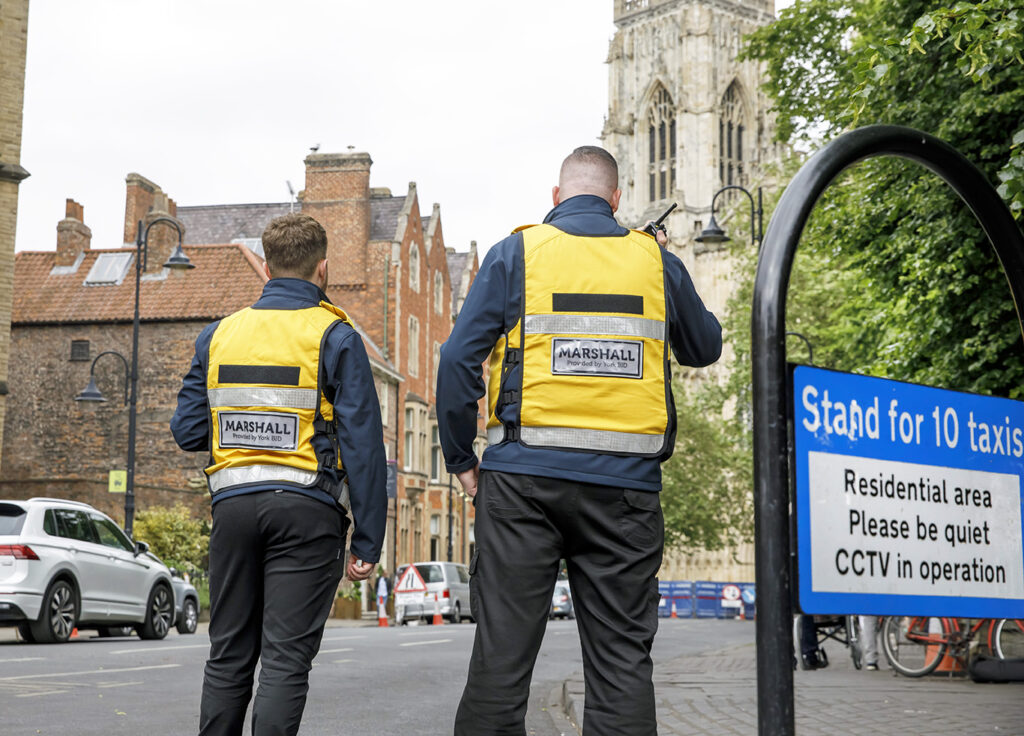 The York Business Improvement District (BID) is once again running a taxi marshalling service on Friday and Saturday nights in the city centre, 11pm to 3am.
The Taxi Marshalls will operate at the Duncombe Place rank where they have operated since 2017. However, due to a grant from the North Yorkshire PFCC the BID are also able to trial the service at the St Saviourgate rank from late June and measure the impact at this location.
The programme aims to curb anti-social behaviour and control noise levels in the neighbourhood while giving those wishing to travel late at night an increased feeling of safety.
These two taxi queues are popular and very busy during weekends. The marshals will deliver organised management of the queue and as a result, will help taxi drivers deliver a faster and safer service.
The scheme has has been warmly received by residents and businesses of Duncombe Place and members of the Hackney Carriage Association since 2017.
Marshalls are Security Industry Authority (SIA) trained and have radio communication with the Police and local partners.
Steve Bailey, General Manager, Dean Court Hotel said, 'I'm delighted to hear that York BID are continuing to provide taxi marshalls in and around York city centre. Since the introduction of the Taxi Marshall campaign in Duncombe Place, we have seen a significant reduction in the number of noise complaints at the Dean Court and we look forward to working with the taxi Marshalls for another successful campaign.'
The cost to run the programme at Duncombe Place is covered by funding from partners including the BID, City of York Council, the Dean Court Hotel and the Residents of Duncombe Place. This has been supplemented by a grant from the North Yorshire PFCC this year.
Carl Alsop, Operations Manager at the York BID said, 'We're pleased to be able to continue the taxi marshal programme. It's proven to be highly effective in improving nightime safety, and contributes to the city's Purple Flag status.'
The taxi marshalls will operate with two marshals on duty at each rank every Friday and Saturday until the end of the year.