Go on safari in York city centre this summer!
If you venture into York this summer, you may come face-to-face with a lion, bear or elephant.
But don't panic – they are entirely harmless! These are just three of an entire menagerie of grass animals which are dotted around the city centre.
Other creatures to be featured include a rhino, sheep, duck, rabbit – and even a snail! And the word 'YORK' will be spelled out in vegetation too.
The eye-catching decorations created from artificial grass form part of the colourful al fresco seating areas installed by the York BID in the city centre this summer.
A total of 72 benches have been put in place, so residents and visitors will never be far away from a lovely spot to sit and chill.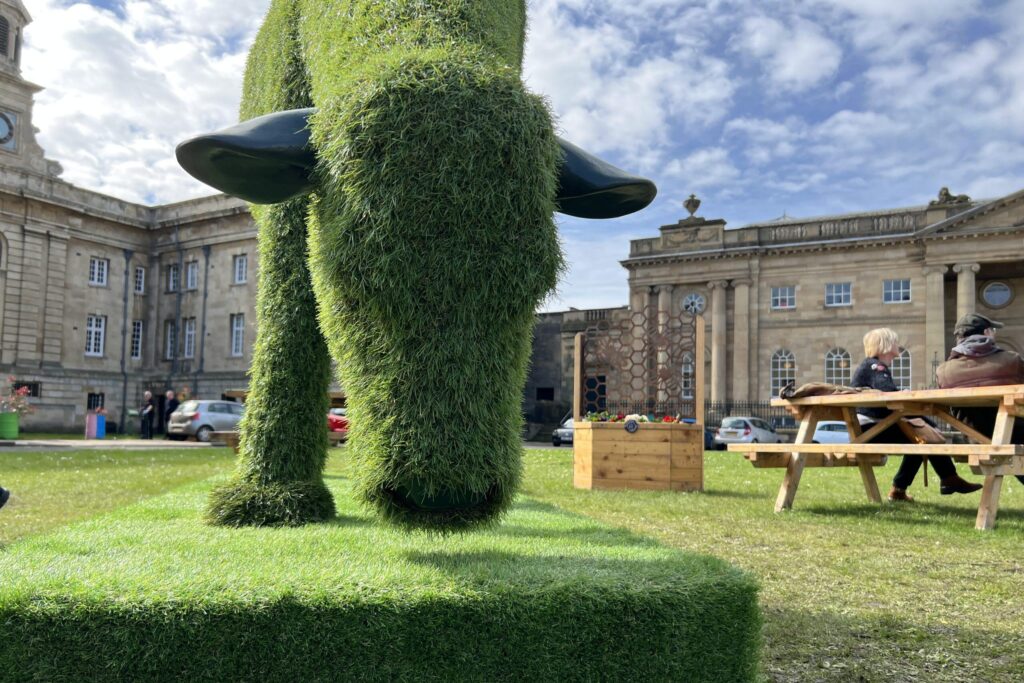 Animal designs have been incorporated into some of the benches too, including a dog and a pig.
And it will be another summer where the streets will be brightened up by colourful floral displays. Forty planters are already in place, with another 160 to come.
After the success of the Buzz About York project last year, the plants will again be pollinator friendly, helping bees and other insects survive and thrive.
For the first time this summer, seating is being placed in Tower Gardens, a great spot to watch the river roll by.
Also new for this year, two of the benches are made entirely from recycled plastic. You can find them at Library Lawn near the Explore York central library. Other seating areas can be found at Castle Museum, the Eye of York, College green, Library Lawn, the Artists Garden and Duncombe Place.
One of the most popular spots in 2021 was College Green next to York Minster, where people of all ages gathered to eat, drink and relax. Additional seating has again been added to this sociable area.
Further developments next year will see College Green transformed into a pocket park – another BID-initiated project.
The York BID's Operational Manager Carl Alsop said: "It was lovely to see so many people relaxing in our outdoor seating areas last summer.
"And businesses said it really lifted the city centre, helping to ensure visitors lingered longer and returned more often.
"This year, we have made it even more fun, with 12 animals to spot across the city.
"So come on, safari in York city centre this summer – and see how many creatures you can find!"
Made from durable plastic, the animals are designed to have a long life, before being returned to the manufacturer to be recycled into other products.