The York BID uses shop wraps to have a positive effect on the surrounding business area. It also leads to the quicker letting of empty properties and improves the overall look of the city for visitors and residents.
With a Splash of Colour we've gone a step further to transform the intersection of Feasegate and Market Street with a special shop wrap with a street art twist and additional seating.
 
This high footfall part of the city centre had a significant number of vacant units, so the BID commissioned York-based Art of Protest Projects to transform the area using window vinyls, street-level art and lighting with a bright underwater design.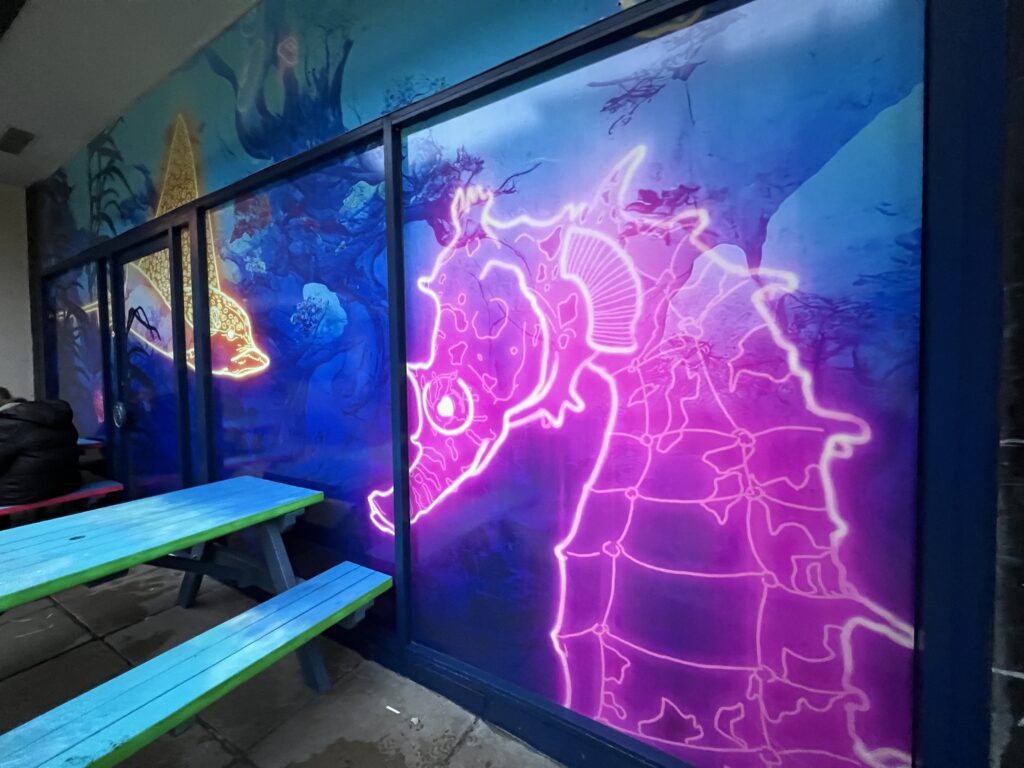 Pulling on Yorks rich history of using it's two rivers to trade with sea-faring merchants, the aquatic theme is bright and visually striking and will provide year-round appeal until the units are back in use.
The artwork 'Neon Beasts' has been created by artist Tom Lewis, depicting sharks, octopus, seahorses and fish.
Carl Alsop, operations manager of the York BID, said:
"A Splash of colour is a project we have been devising for a while now, the key thing for us was to improve the look of the city in a similar way to our other shop wraps, however given the unique position of this unit we wanted to do something really different and the 'Splash of Colour' street art was born. What I really love about this installation is how it focuses on a really unknown part of York's history and brings it to life in such a vibrant and contemporary way. We have neon sharks in the centre of York and a place to sit and enjoy them. What more can we ask for?!"
Jeff Clarke of Art of Protest Projects said:
"It's always a real pleasure to be invited back to York to work with The York BID who have done so many great projects over the years, including our last project with them, The Guardians of York. So to help bring a little bit of colour and joy to what was becoming quite a sad and unused thoroughfare in York was a really exciting opportunity to deliver on. We took an interesting concept and utilising the talent of artist Tom Lewis, we brought it to life. We're super proud of the result and the new space for people to come sit and relax!"
You can read more about the artwork here.