York Celebrates Queens Platinum Jubilee
The York BID are marking the Queen's Platinum Jubilee by dressing the city for the occasion.
The battle of the bunting has begun with the BID contributing to the celebrations by dressing the city centre in a whopping 3,500m of bunting to provide a celebratory atmosphere and make an impact across the city centre. Will anywhere have more bunting than York?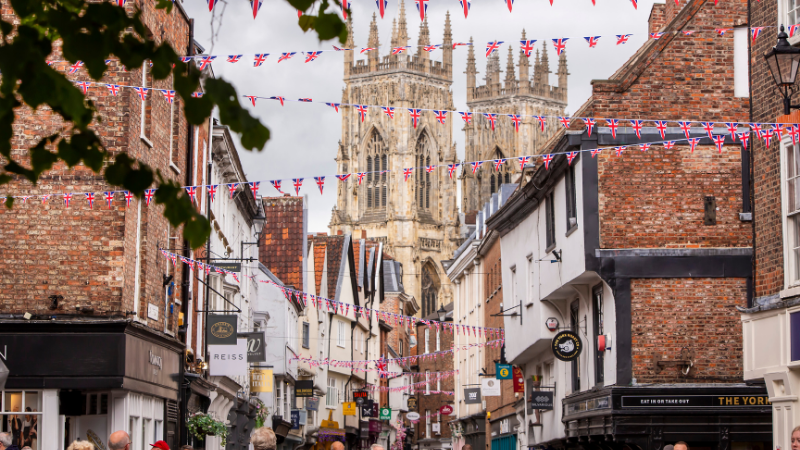 During the Jubilee weekend the BID are inviting people to St Sampsons Square where they'll be showing archive footage of the Queen's visits to the north of England over the years on a big screen. The footage will be shown on the hour from 10am – 6pm daily from Thursday 2nd – Saturday 4th June.
Also on the screen will be family favourite 'The Queens Corgi' at 1pm daily with plenty of deckchairs to chill in and patriotic flags. The Queen's favourite dog gets lost from the palace and finds himself at a dog fight club. He then begins his long journey to find his way back home… 1pm Daily | PG | 1 Hr 25mins
We've also provided some union flag Giant Deck Chairs as part of the Jubilee celebrations in some of York's loveliest parks and gardens – Dean's Park, Middletons Hotel Garden, Judge's Lodging and Museum Gardens.
Grab some refreshments from some of the great local businesses nearby, take a seat and soak up the atmosphere.